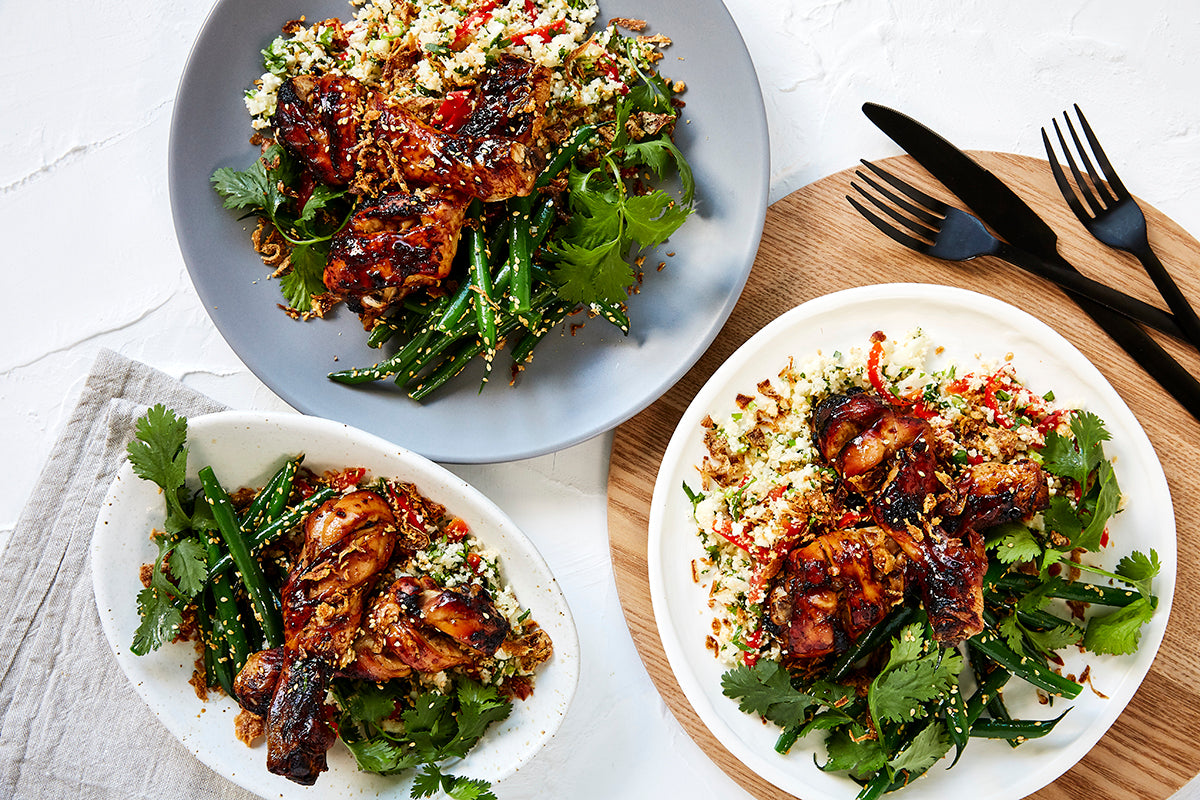 Tamari Chicken Drumsticks - with Cauliflower Rice & Sesame Beans
Serving Size: 4
Cook Time: 55 mins
It's chicken and rice - but better. Let us tell you more; salty sticky drumsticks, a sneaky veg standing in for rice and sesame green beans that want to be a star in their own right! It's also veg-packed and dairy free. Winner, winner chicken dinner indeed!
COOKING INSTRUCTIONS
1. 

Give all your vegies a little wash. Preheat the oven to 200°C. Remove the skin from the ginger then grate using a microplane. Crush the garlic using a garlic press. Add to a large bowl with the tamari sauce, sweet chilli sauce, rice wine vinegar, honey, and half (1 tsp) of the sesame oil. Mix well.

2.

Pat dry the chicken. Make 2 deep diagonal cuts across each drumstick as pictured. Add drumsticks to the marinade, coat well. Place on a lined baking tray and spread evenly. Pour the remaining marinade over the drumsticks. Cook in the oven for approx. 40 mins until golden and cooked through.

3.

Place sesame seeds on a baking tray and cook for approx. 8 mins or until golden and set aside. Cut the cauliflower into florets. In 2 batches, add to a food processor and pulse until finely chopped. Otherwise, finely chop with knife or grater. Bring a medium size pot of salted water to the boil.

4. 

Cut bullhorn chillies in half, remove the seeds and cut across into thin slices. Finely slice the shallots. Pick the coriander leaves and finely chop the stalks and the remaining garlic. Bring a frying pan to medium high heat, drizzle grapeseed oil and sauté shallots, garlic and bullhorn chilli for approx. 5 mins until golden. Add cauliflower rice and cook for approx. 3 mins while stirring constantly. Remove from heat, add the juice of half a lemon and the chopped coriander stalks.

5. 

Remove hard tops from beans then blanch in boiling water for approx. 4 mins. Refresh with cold water and add to a bowl with the remaining sesame oil (1 tsp), the juice of half a lemon, toasted sesame seeds and salt and pepper to season. Toss well.

6. 

Plate cauliflower rice, green beans and drumsticks. Drizzle over all the juices from the drumstick baking tray. Garnish with reserved coriander leaves and fried eschallots. Consume within 48 hrs.
WHAT'S IN THE BOX?
2 packets chicken drumsticks
1 knob ginger
6 garlic cloves
2 tbsp tamari
½ tbsp sweet chilli sauce
2 tbsp rice vinegar
2 tbsp honey
2 tsp sesame oil
1 tbsp sesame seeds
½ cauliflower
2 red bullhorn chillies
¼ bunch shallots
¼ bunch coriander
2 tbsp grapeseed oil
1 lemon
250 g green beans
¼ cup fried eschallots
WHAT YOU'LL NEED FROM YOUR PANTRY