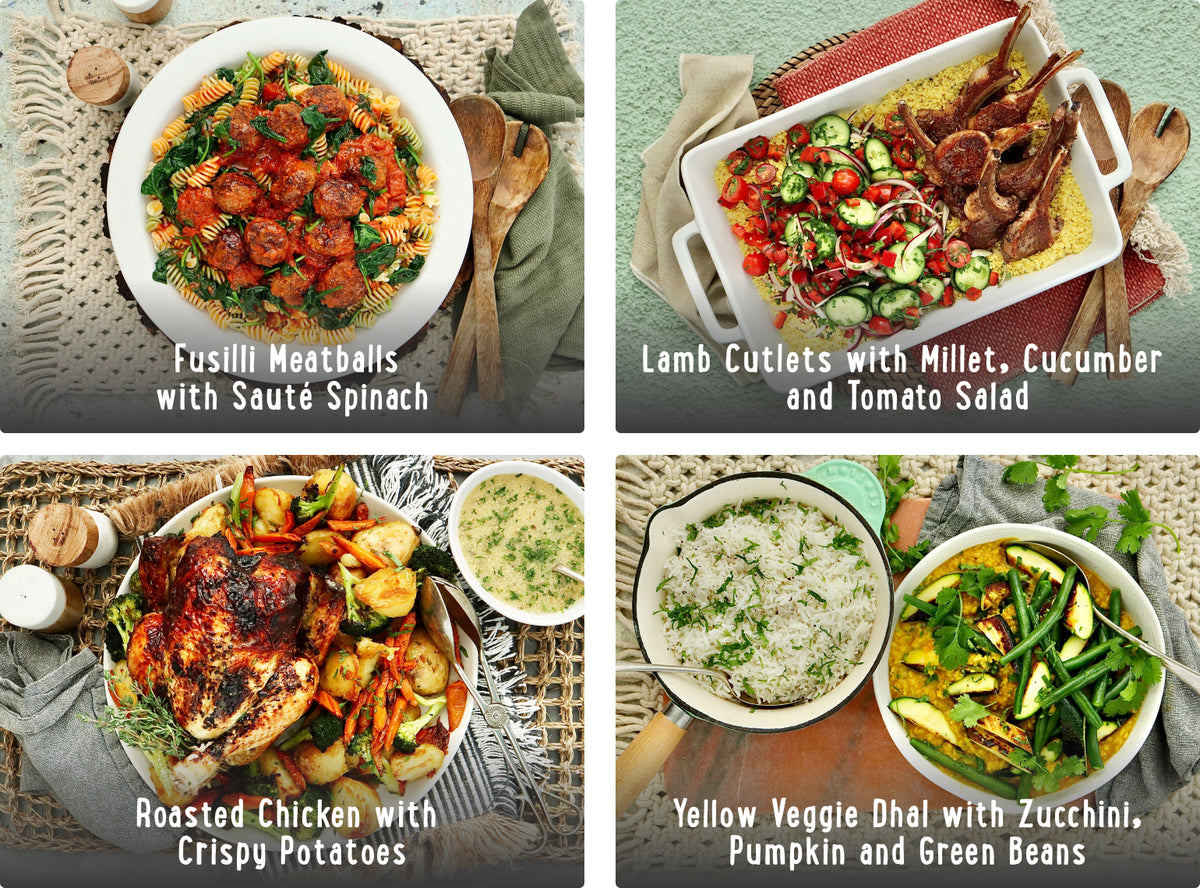 Organic Recipe Box - Fusilli Meatballs, Yellow Veggie Dhal, Roasted Chicken and Lamb Cutlets with Millet
Organic Recipe Box comes with the best weekly fruit & veg picks, as well as four delicious and wholesome recipes to feed your family. Your weekly shop is now easier and more exciting than ever before!
WHAT'S IN THE BOX THIS WEEK?
Everything you need to create two fresh seasonal recipes, as well as a great selection of fruit & veg.
Fruit & Veg:
2-3 Organic Corn Cobs
500g Organic Carrots
250g Organic Cucumbers
1 Organic Kale Bunch
180g Organic Mushrooms
500g Organic Kent Pumpkin
200g Organic Cherry Tomatoes
500g Organic Zucchini
1kg Organic Gala Apples
2 Organic Avocadoes
5 Organic Bananas
500g Organic Grapes
3kg Organic Oranges
1kg Organic Potatoes
120g Organic Mixed Salad Leaves
120g Organic Baby Spinach Leaves
250g Organic Beans
1 Organic Broccoli Head
500g Organic Onions
500g Organic Lemons
350g Organic Capsicums
1 Organic Parsley Bunch
1 Organic Coriander Bunch
1 Organic Thyme Bunch
Groceries/Proteins:
1.4-1.9kg Organic Chicken
350-700g Organic Lamb Cutlets
400-500g Organic Meatballs
500g Organic Basilico Pasta Sauce
500g Organic Fusilli Pasta
1kg Organic Basmati Rice
500g Organic Hulled Millet
400g Organic Moong Dhal Mixture
15g Organic Herbs Herb De Provence
WHAT YOU'LL NEED IN YOUR PANTRY
Salt & Pepper
Ghee or Olive Oil
1/2 Cup Verjuice
1 Tbsp Flour
1 Tbsp Dijon Mustard
1 Tbsp Honey
1 Tbsp Seeded Mustard
*The Box pictured is for illustration purposes and may contain different products, brands or varieties according to availability.
ADD ANY EXTRA PANTRY ITEMS OR A BOTTLE OF WINE HERE: