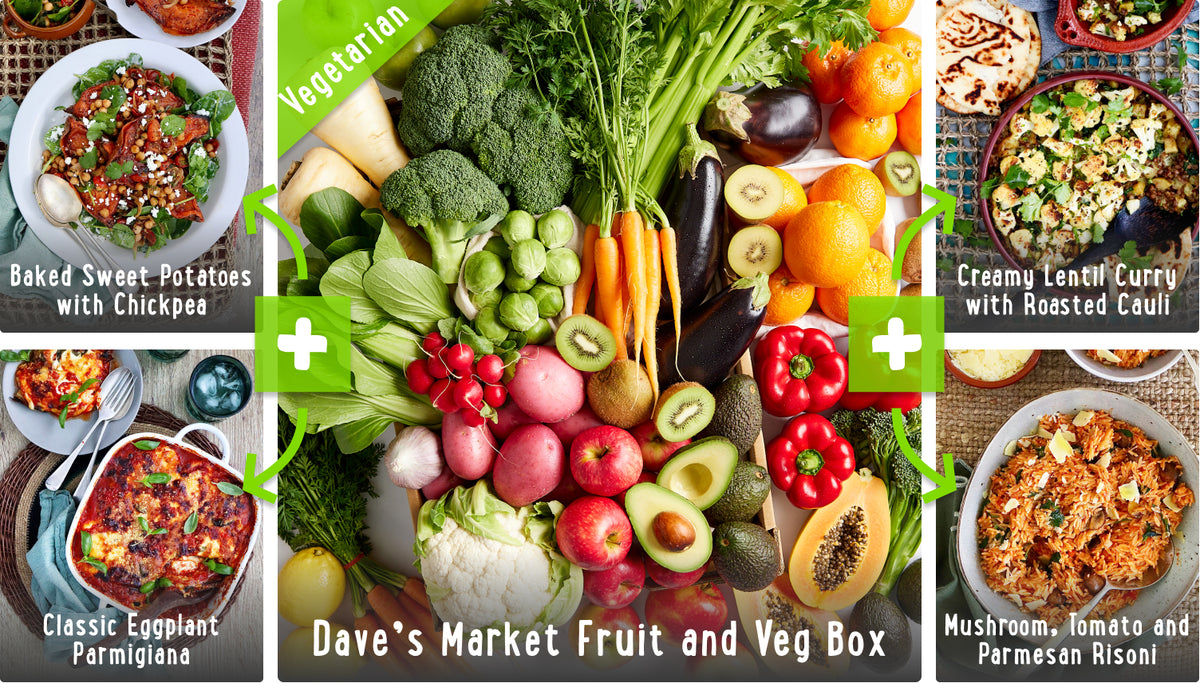 Dave's Vegetarian Recipe Box - Mushroom Risoni, Curried Creamy Lentils, Baked Sweet Potato and Eggplant Parmigiana
Dave's Recipe Box comes with Dave's weekly fruit & veg picks, as well as two delicious and wholesome recipes to feed your family. Your weekly shop is now easier and more exciting than ever before!



WHAT'S IN THE BOX THIS WEEK?
Everything you need to create two fresh seasonal recipes, as well as a great selection of fruit & veg.
Fruit, Veg & Groceries:
200g Swiss Brown Mushrooms
360g Baby Spinach
500g Tomato Basil Sauce
500g Risoni Pasta
250g Shaved Parmesan
1kg Potatoes
3 Brown Onion
45g Madras Spice Mix
1/2 Cauliflower
800g Lentils
300ml Cream
280g Naan Bread x4
2 Lemon
2 Eggplants
500g Tomato Basil Sauce
400g Chopped Tomatoes
1 Basil Bunch
250g Mozzarella
100-200g Grated Parmesan Cheese
1kg Sweet Potato
40g Zaatar Spice Mix
1 Garlic Head
250g Cherry Tomatoes
400g Chickpeas
350g Unsweetened Yoghurt
200g Fetta Cheese
4 Mandarins
10 Apples ( 2 Varieties)
2 Oranges
1kg Carrots
1 Celery
3 Avocadoes
WHAT YOU'LL NEED IN YOUR PANTRY
Salt & Pepper
Olive Oil
*The Box pictured is for illustration purposes and may contain different products, brands or varieties according to availability.
ADD ANY EXTRA PANTRY ITEMS OR A BOTTLE OF WINE HERE: