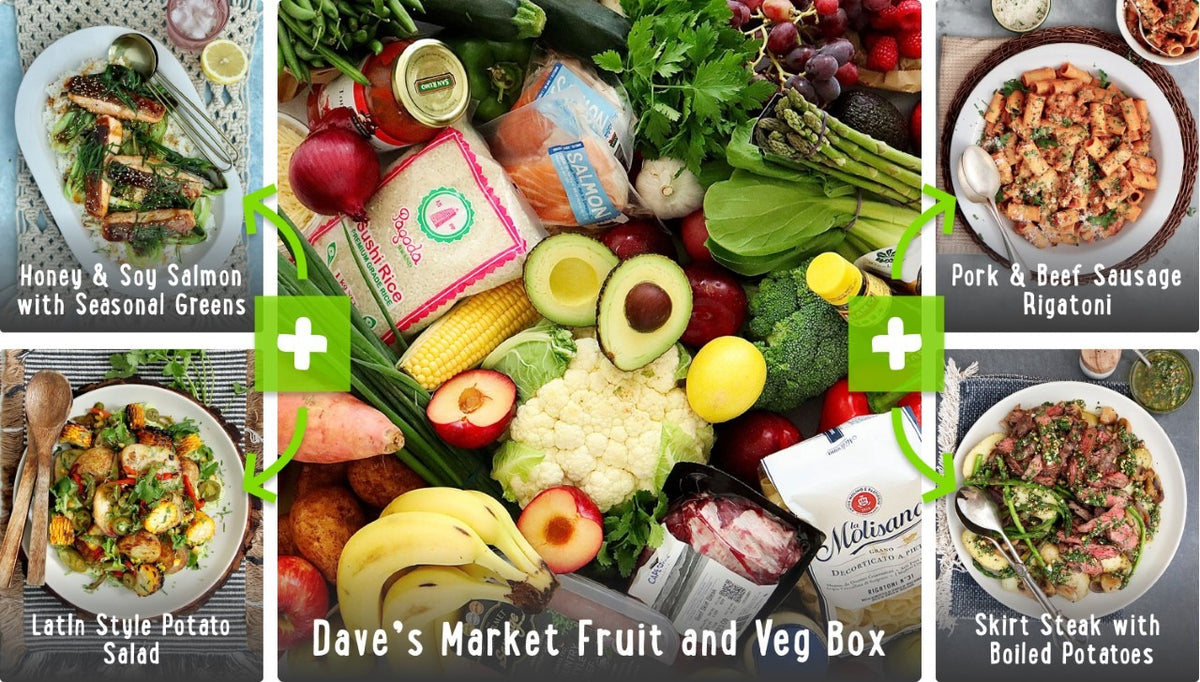 Dave's Recipe Box - Skirt Steak, Sausage Rigatoni, Honey Soy Salmon and Latin Potato Salad
Dave's Recipe Box comes with Dave's weekly fruit & veg picks, as well as two delicious and wholesome recipes to feed your family. Your weekly shop is now easier and more exciting than ever before!
WHAT'S IN THE BOX THIS WEEK?
Everything you need to create two fresh seasonal recipes, as well as a great selection of fruit & veg.
Fruit & Veg:
1 Asparagus Bunch
500g Beans Hand Picked
2 Broccoli Heads
3 Black Zucchinis
200g Mushrooms
1kg Sweet Potato
2kg Dutch Cream Potatoes

1kg Sebago Potatoes
2 Avocados
5 Premium Bananas
2 William Pears
4 Plums
6 Apples ( 2 Varieties )
1kg Red Grapes
2 Corn Cobs
1 Red Capsicum
1 Green Capsicum
1 Bok Choy Bunch
1 Lemon
1 Garlic Head
3 Spanish Onion
1 Coriander Bunch
1 Parsley Bunch
1 Shallots Bunch
Groceries/Proteins:
750g-1kg Skirt Steak

4 Salmon Fillets (650-850g)
500g Sausages
1kg Sushi Rice
210ml Honey Soy Marinade
250g Sour Cream
270g Slice Jalapenos
500g Rigatoni
500g Tomato Onion Garlic Sauce
300ml Cream
200g Grated Parmesan
75g Nuts
WHAT YOU'LL NEED IN YOUR PANTRY
Salt & Pepper
Olive Oil
Cooking Oil
Butter
Red Wine Vinegar
Sesame Seeds
Mexican Spice Mix or Cumin
*The Box pictured is for illustration purposes and may contain different products, brands or varieties according to availability.
ADD ANY EXTRA PANTRY ITEMS OR A BOTTLE OF WINE HERE: