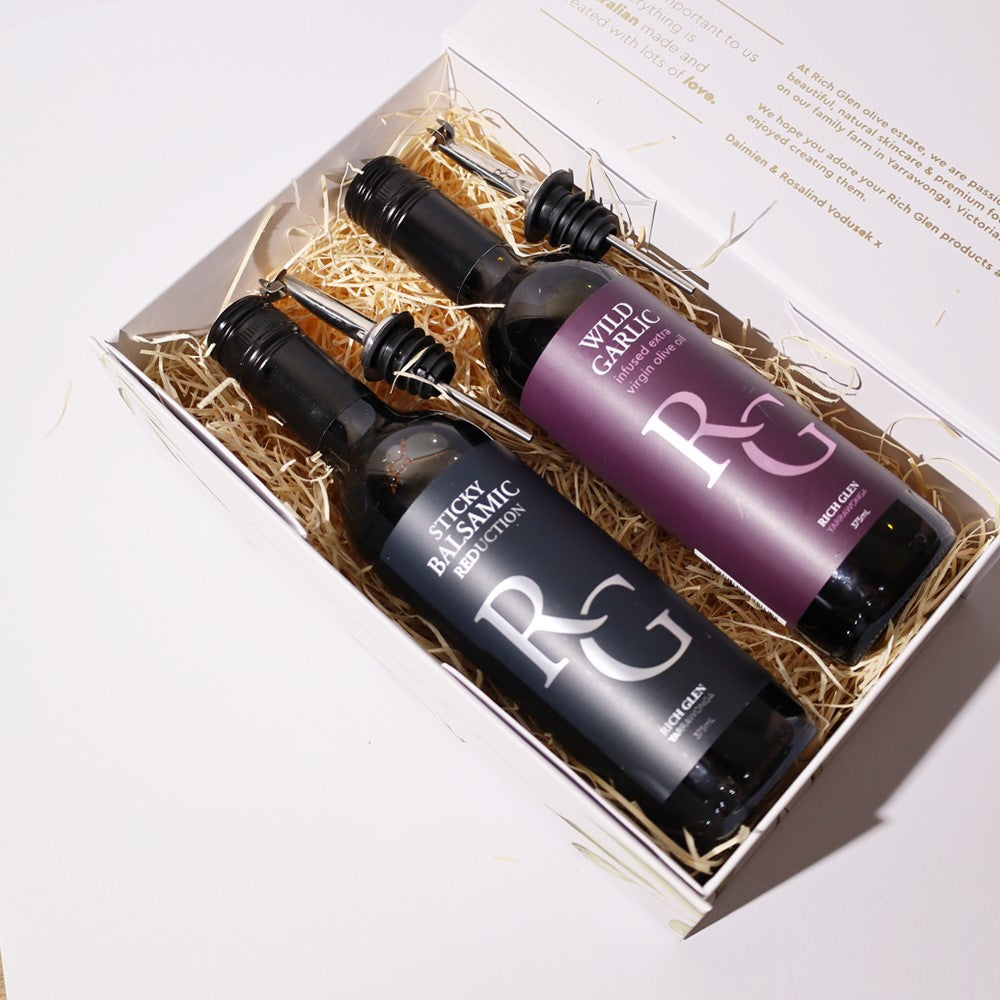 Rich Glen Oil and Vinegar Hamper
Rich Glen Oil and Vinegar Hamper
Exclusive to Harris Farm Markets, this pack contains Rich Glens award winning garlic oil olive oil, and luxuriously thick and sweet Balsamic Reduction. 
Hampered up in a bespoke box, it makes for a perfect gift for the foodies in your life. 
With a unique unboxing experience, they'll  simply LOVE this hamper! 
This pack includes the 
RG Gift Box
:
Sticky Balsamic reduction 375mL 
Wild Garlic olive oil 375mL
2 x RG Stainless steel pourers
RICH GLEN WAS ESTABLISHED IN 1998, WHEN THE VODUSEK FAMILY PLANTED 36,000 OLIVE TREES ALONG THE MURRAY RIVER IN YARRAWONGA, VICTORIA.

The transition to olive trees on the family property was born out of the need for a more sustainable venture on what was a previous cattle & sheep property.

In 2004, a state-of-the-art processing facility was built on the property, allowing the olives to be harvested at peak ripeness.

Rich Glen became a self-sufficient operation, controlling the entire process from tree to table.
Rich Glen Olive Oil now champions a genuine commitment to sustainability by fully integrating eco-conscious practices. They utilise every part of the olive, composting waste to enrich the orchard and drying the leaves for olive leaf tea. 
The Vodusek family has made their mark in the industry by showing what the humble olive can do. Rich Glen Olive Oil stands as a testament to their passion and commitment to quality and supporting Australian Made.