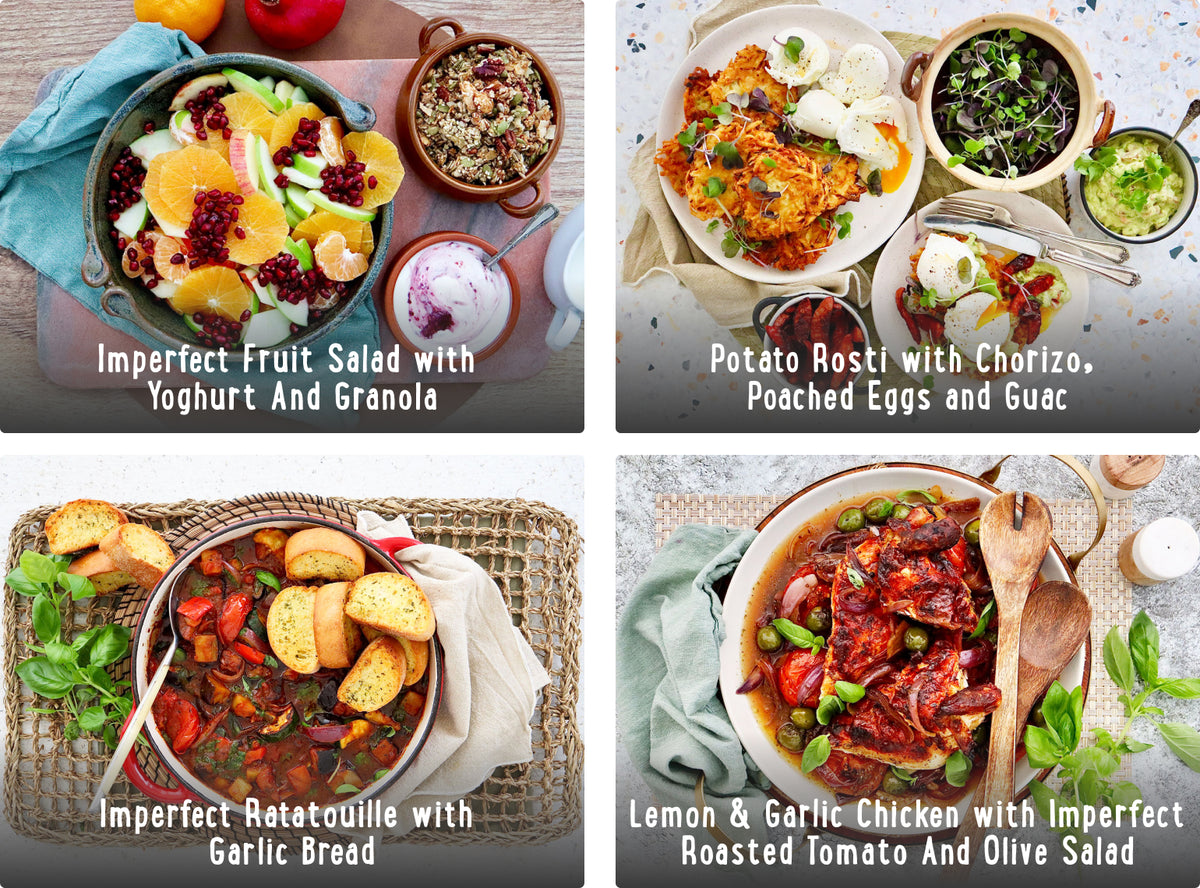 Imperfect's Recipe Box - Fruit Salad, Ratatouille, Sweet Potato Chips, Potato Rosti and Lemon and Garlic Roasted Chicken
Dave's Recipe Box comes with Dave's weekly fruit & veg picks, as well as two delicious and wholesome recipes to feed your family. Your weekly shop is now easier and more exciting than ever before!
WHAT'S IN THE BOX THIS WEEK?
Everything you need to create two fresh seasonal recipes, as well as a great selection of fruit & veg.
Fruit & Veg:
1kg Imperfect Kumera
1kg Imperfect Potatoes
12 Imperfect Tomatoes
1 Imperfect Eggplant
2 Imperfect Zucchini
5 Imperfect Oranges
6 Imperfect Apples
2 Imperfect Pears
1 Imperfect Pomegranate
3 Imperfect Lemon
2 Imperfect Avocado
1 Red Capsicum
1 Brown Onion
3 Red Onions
1 Garlic Head
1 Coriander Bunch
1 Basil Bunch
125g Salad Sprouts
Grocery/Perishable Items:

220g Chorizo
6 Eggs
1-1.2kg Marinated Butterfly Chicken
200g Green Sicilian Olives
45g Spanish Spice Mix
200g Danish Feta
350g Unsweetened Yoghurt
500g Pasta Sauce
30g Italian Herbs
1 Garlic Bread
350g Yoghurt
450g Brook Farm Granola
WHAT YOU'LL NEED IN YOUR PANTRY
Salt & Pepper
Olive Oil
Cooking Oil
Milk
1 Tsp Sugar
2 Tbsp Corn Flour
1/2 Cup Plain Flour
White Vinegar
1.5 Tbsp Balsamic Vinegar
*The Box pictured is for illustration purposes and may contain different products, brands or varieties according to availability.
ADD EXTRA PANTRY ITEMS OR SOME MORE IMPERFECT FRUIT & VEGGIES HERE: