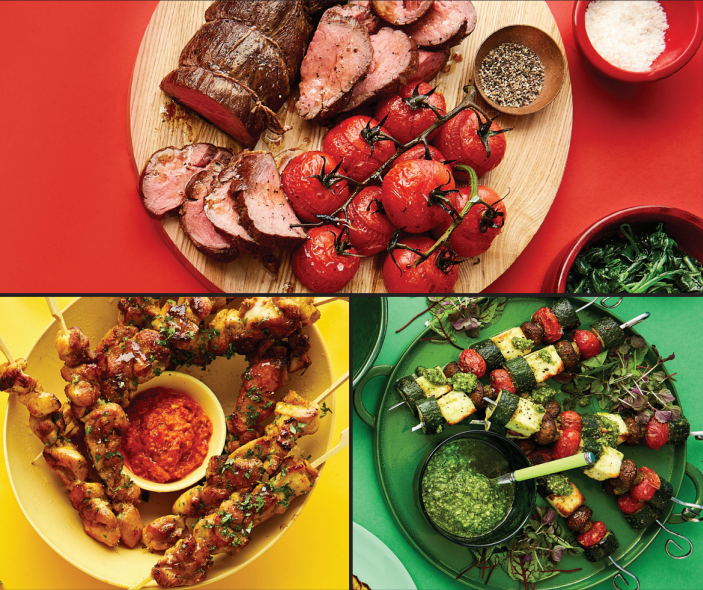 Be Better Barbie Bundle
Be Better Barbie Bundle comes with everything you need for your weekend BBQ. Make entertaining easy with these crowd pleasing recipes! 





WHAT'S IN THE BOX THIS WEEK?
Everything you need to create three fresh seasonal recipes! 
800-1.4kg Beef Eye Fillet

500g Sampari Cocktail Truss Tomatoes
120g Baby Spinach
 800g-1.2kg Chicken Thigh Fillets
50g Cajun Spice Mix 
2 Plantain Bananas
1 Coriander Bunch 
150g Roast Capsicum Pesto  
4 Zucchinis 
500g Halloumi Cheese
200g Grape Tomatoes 
200g Button Mushrooms 
200g Basil Pesto 
120g Mixed Salad Leaves 
1 Imperfect Lemon  
WHAT YOU'LL NEED FROM YOUR PANTRY
Salt & Pepper
Olive Oil
Caramelised Balsamic 
1 Tbsp Dry Oregano 
Deep Frying Oil
Skewers (Bamboo or Metal) 
Parmesan Cheese 
*The Box pictured is for illustration purposes and may contain different products, brands or varieties according to availability.
ADD ANY EXTRA PANTRY ITEMS OR A REFRESHING DRINK HERE: